Access to
Wholesale Products
Stock your practice with the very best contact lens solutions! All wholesale orders of Tangible Clean and Tangible Boost come with wholesale discounts and free shipping.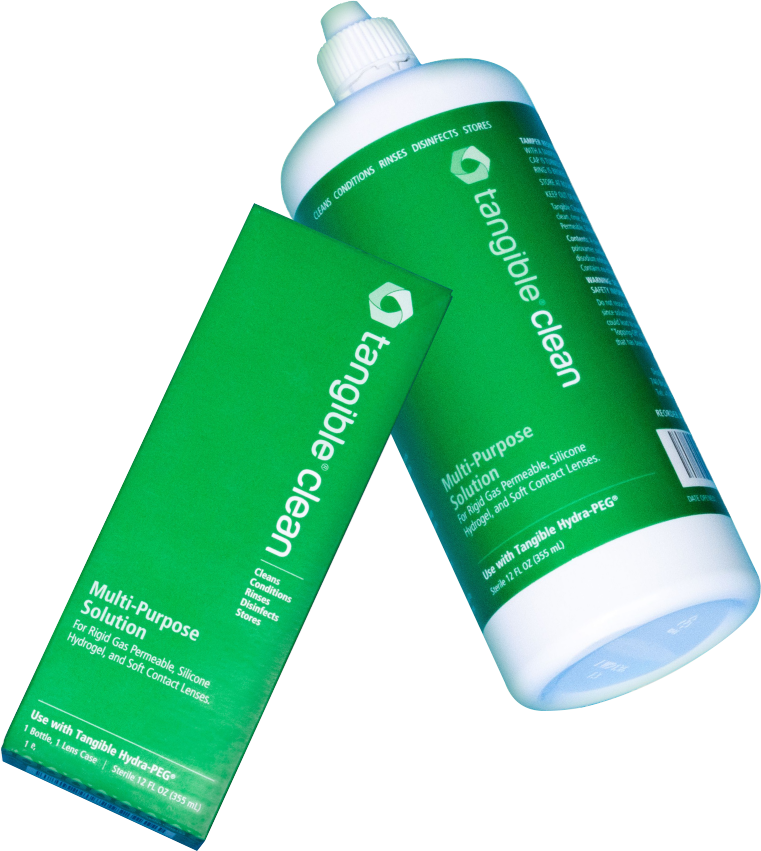 Personal
Account
Manager
Get personal 1 on 1 assistance on anything ranging from
Hydra-PEG care tips, to Tangible Boost Rx questions.
We are here for you!
Exclusive Access to
Tangible Care
Enroll patients for online access to solutions including Tangible Boost.
Streamline your fit and follow up process while earning revenue from solution purchases.
What is Tangible Care?
Tangible Care is a brand new program which gives your practice the ability to enroll your Tangible Hydra-PEG patients with us, and connect them to a personal Care Coach. This Care Coach will reach out to your patient periodically to check on their lens performance, and provide information on care and cleaning tips.

This enrollment also acts as an Rx for Tangible Boost, so there is no need to fax in prescriptions for verification! Once a patient is enrolled, your practice earns revenue for every solution purchase they make. These purchases are reported every quarter.
What is Tangible Hydra-PEG?
Tangible Hydra-PEG is a custom contact lens coating applied when the lens is manufactured. It increases the surface wetability of the lens, reduces deposits from sticking to the surface, reduces scleral lens fogging, and overall makes that wearing experience more comfortable for your patient.

If you are interested in ordering a lens coated with Tangible Hydra-PEG, please speak with your contact lens manufacturing lab!
What is Tangible Clean?
Tangible Clean is a new ultra-thin multi purpose solution for gp, scleral, hybrid, and soft contact lenses. It can be used to clean, rinse, store, disinfect, and condition.

Tangible Clean is currently available online for patients in 12oz and 3.4oz options. Wholesale options are available for practitioners who register for accounts on tangiblescience.com. Pricing is available after registration.
What is Tangible Boost?
Tangible Boost is an Rx only conditioning solution designed to restore the Tangible Hydra-PEG coating on coated lenses.

Used monthly by patients, Tangible Boost helps rebuild the layer of coating on the lens that may thin over time due to normal wear and tear.
What is the process for registering for a practitioner account?
Registration takes just a couple minutes! Click on the "Sign-up" button on this page and fill out our quick form with your practice's information.

Once this is completed, you will receive an email notification letting you know that your information is being reviewed by our team. This process typically takes 24 hours. When your account is approved you will receive an approval email with more information on Tangible Care and our wholesale options.

You will also receive a personal email from your Tangible Account Manager in case you have any questions moving forward!
How can I offer Tangible solutions without carrying inventory in my office?
Through your Practitioner Account, you will have access to Tangible Care. This program allows you to prescribe, recommend and sell Tangible solutions directly to your patients through an online storefront we set up for you. This program allows you to earn revenue from the purchases made by patients who are in the program and purchasing from your online store.
Frequently
Asked
Questions
Undoubtedly you have more questions! Our team is here for you if you need more information about our amazing contact lens products, or our new program Tangible Care. If you can't find your answer here please get in touch with us directly by following the instructions below.