Our Mission
Tangible® Science strives to dramatically improve the contact lens experience for patients, eye care professionals, and contact lens manufacturers.

Contact lens wearers often complain of discomfort and inconvenience, while eye care practitioners are often frustrated by their inability to provide a comfortable solution for their contact lens patients that lasts all day.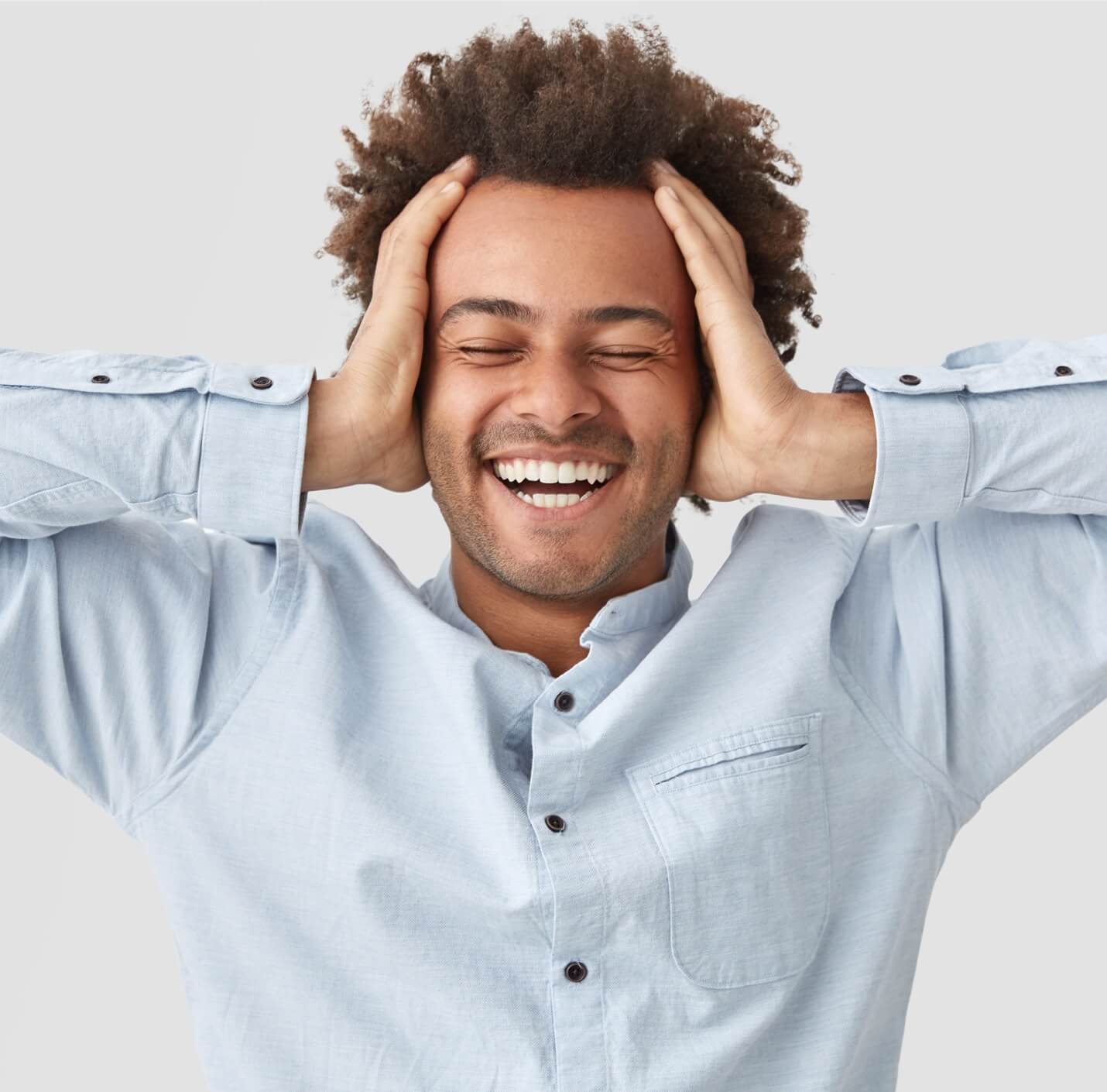 We are a young, motivated, and creative team of doers
We saw frustration with contact lenses experienced by many professionals, and patients alike and decided to do something about it.

For custom contact lens wearers, we have created an innovative family of products specifically for them, to add greater comfort, deposit resistance and convenience.

For soft lens wearers, we have partnered with contact lens manufacturers to create a variety of daily disposable lenses featuring a reformulation of our polymer technology to further enhance comfort and wearability.
Our Team
Vic is a "Jack of many trades" and lives a full life. In addition to founding Tangible Science and leading its stellar team, he continues to practice Trauma Surgery at hospitals in the San Francisco Bay Area, and teaches Innovation at Stanford University Biodesign. When not working, Vic enjoys many hobbies including snowboarding, rock-climbing, motorcycle-riding and chess.

Victor McCray

President & CEO

Karen is a scientist and inventor that loves creating new technologies for the eye care industry. As a graduate student at Stanford, Karen developed hydrogel materials to improve stem cell transplants. She leveraged this biomaterials experience to develop the technology behind Tangible Hydra-PEG. In her free time Karen enjoys playing beach volleyball, hiking, and spending time with her husband and young sons. 

Karen Havenstrite

Chief Technical Officer

Brandon received his B.S. Mechanical Engineering from Cal Poly San Luis Obispo where he had the opportunity to intern for a medical device company.  He has been a career MedTech junkie ever since, working in various capacities at several start-ups and a design and manufacturing firm.  Brandon completed the Stanford Biodesign Innovation Fellowship in 2011 and subsequently co-founded Tangible Science.  Brainstorming on a white board is his happy place.
 
Brandon is the proud father of three very active young boys who keep him busy. The first to admit that he has too many hobbies, his favorite ways to pass the time include surfing, weightlifting and training Brazilian Jiu-Jitsu.

Brandon Felkins

Co-Founder and Board Director

Kelly Mabry is the Director of R&D at Tangible Science and has been with the company since 2015. She has led projects from early stage research through the development and FDA approval process, and is committed to bringing new technologies to the market to benefit patients. Kelly received her Ph.D. in Chemical Engineering from the University of Colorado, where she studied the use of biomaterials to provide mechanical and biochemical cues to direct heart valve cell behavior and authored multiple peer-reviewed publications.

Kelly Mabry

Director of Research and Development

Katharine Kline is the Operations Manager at Tangible Science and has been with the company since 2014. Katharine also manages quality for the company. Outside of the office, Katharine likes hiking and cooking.

Katharine Kline

Operations and Quality Manager

Since I am making edits to this page, I'll go ahead and speak in the first person! I've been at Tangible Science since 2016, working tirelessly to make sure our products are at the highest quality for patients and practitioners. Also, if you have reached out to our customer service, there is a good chance you have spoken with me! I love hearing your questions and feedback so we can continually improve our products for you. Outside of Tangible Science I am a baseball fanatic, and do not miss any SF Giants games.

Ryan Gorman

Product Manager

Although born in Chattanooga, TN, Kemberly has lived in Dallas most of her life. She has been in eye care for over 30 years working in many areas of the industry. She received clinical training in primary eye care as well as contact lenses and holds certifications in both. Outside of the office Kemberly enjoys fitness, watching sports, and spending time with her family. She also claims to have the best cat in the world and accepts all challengers. 

Kem Grizzaffi

Manager of Partner Relations

Nicole has been in the contact lens industry since 1991.  She has served as a Lab Consultant, on the front lines in assisting Practitioners for most of her career and is now the newest addition to the Tangible Team as the Inside Sales Account Manager.

Born and raised in Grand Rapids, MI, Nicole still resides there with her family.  Outside of contact lenses, she enjoys family time with her husband and son, her two rescue dogs, reading, yoga and loves spin classes.  During the summer she enjoys the beaches of Lake Michigan.  

Nicole Edwards

Inside Sales Account Manager
Vic is a "Jack of many trades" and lives a full life. In addition to founding Tangible Science and leading its stellar team, he continues to practice Trauma Surgery at hospitals in the San Francisco Bay Area, and teaches Innovation at Stanford University Biodesign. When not working, Vic enjoys many hobbies including snowboarding, rock-climbing, motorcycle-riding and chess.

Victor McCray

President & CEO

Karen is a scientist and inventor that loves creating new technologies for the eye care industry. As a graduate student at Stanford, Karen developed hydrogel materials to improve stem cell transplants. She leveraged this biomaterials experience to develop the technology behind Tangible Hydra-PEG. In her free time Karen enjoys playing beach volleyball, hiking, and spending time with her husband and young sons. 

Karen Havenstrite

Chief Technical Officer

Brandon received his B.S. Mechanical Engineering from Cal Poly San Luis Obispo where he had the opportunity to intern for a medical device company.  He has been a career MedTech junkie ever since, working in various capacities at several start-ups and a design and manufacturing firm.  Brandon completed the Stanford Biodesign Innovation Fellowship in 2011 and subsequently co-founded Tangible Science.  Brainstorming on a white board is his happy place.
 
Brandon is the proud father of three very active young boys who keep him busy. The first to admit that he has too many hobbies, his favorite ways to pass the time include surfing, weightlifting and training Brazilian Jiu-Jitsu.

Brandon Felkins

Co-Founder and Board Director

Kelly Mabry is the Director of R&D at Tangible Science and has been with the company since 2015. She has led projects from early stage research through the development and FDA approval process, and is committed to bringing new technologies to the market to benefit patients. Kelly received her Ph.D. in Chemical Engineering from the University of Colorado, where she studied the use of biomaterials to provide mechanical and biochemical cues to direct heart valve cell behavior and authored multiple peer-reviewed publications.

Kelly Mabry

Director of Research and Development

Katharine Kline is the Operations Manager at Tangible Science and has been with the company since 2014. Katharine also manages quality for the company. Outside of the office, Katharine likes hiking and cooking.

Katharine Kline

Operations and Quality Manager

Since I am making edits to this page, I'll go ahead and speak in the first person! I've been at Tangible Science since 2016, working tirelessly to make sure our products are at the highest quality for patients and practitioners. Also, if you have reached out to our customer service, there is a good chance you have spoken with me! I love hearing your questions and feedback so we can continually improve our products for you. Outside of Tangible Science I am a baseball fanatic, and do not miss any SF Giants games.

Ryan Gorman

Product Manager

Although born in Chattanooga, TN, Kemberly has lived in Dallas most of her life. She has been in eye care for over 30 years working in many areas of the industry. She received clinical training in primary eye care as well as contact lenses and holds certifications in both. Outside of the office Kemberly enjoys fitness, watching sports, and spending time with her family. She also claims to have the best cat in the world and accepts all challengers. 

Kem Grizzaffi

Manager of Partner Relations

Nicole has been in the contact lens industry since 1991.  She has served as a Lab Consultant, on the front lines in assisting Practitioners for most of her career and is now the newest addition to the Tangible Team as the Inside Sales Account Manager.

Born and raised in Grand Rapids, MI, Nicole still resides there with her family.  Outside of contact lenses, she enjoys family time with her husband and son, her two rescue dogs, reading, yoga and loves spin classes.  During the summer she enjoys the beaches of Lake Michigan.  

Nicole Edwards

Inside Sales Account Manager